Welcome to my new Web page! I
built it using Tripod's
One-minute Page builder.

My name is Rachel and I'm 30
years young. I'm a housewife and
I have one son named Ryan.He is
11 years old.

My interests are boating,
fishing, and just chilling out.

My hobby is collecting ANGELS.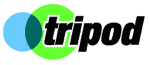 This is the Tripod logo.
The One-minute Page builder makes
Web page publishing fast and
easy. I can add my own picture
and text, plus news, weather, my
daily horoscope, and my favorite
links!
[an error occurred while processing this directive]
[an error occurred while processing this directive]
[an error occurred while processing this directive]